This last decade has seen a massive influx of wearable technology, and the addition of health features has been great news for all athletes, frequent exercisers, and those who want to track their health a little more closely. Today wearables are able to measure numerous important metrics such as your heart rate (using a heart rate monitor), number of footsteps, blood oxygen levels, as even your ECG.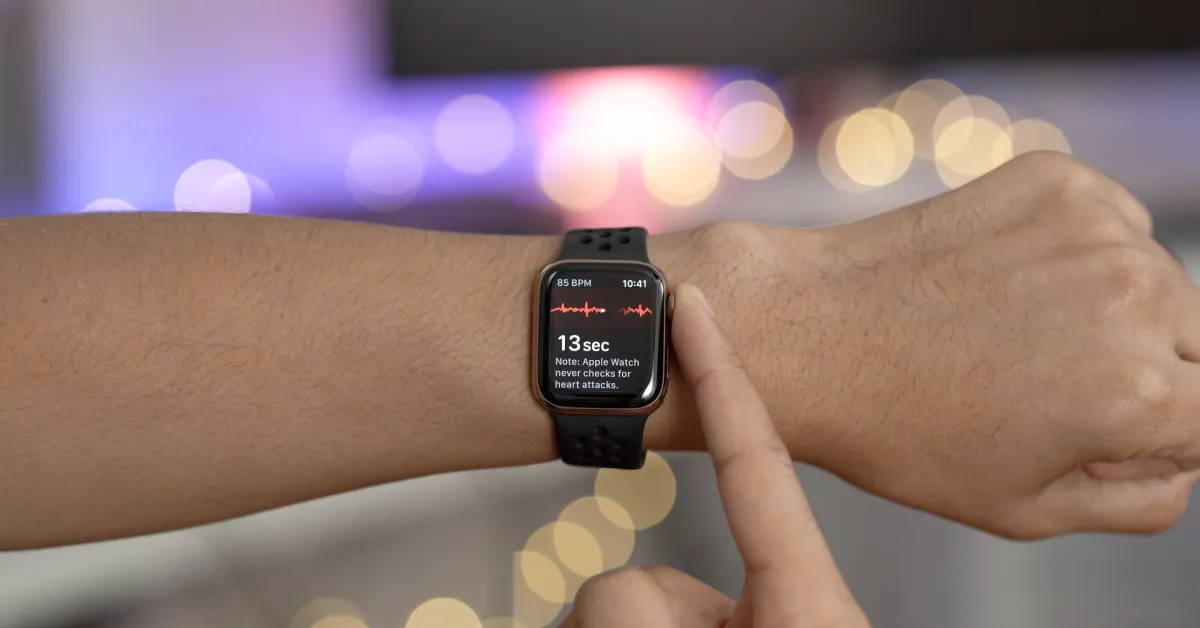 ECG, which stands for Electro-Cardiogram, has become a particularly hot topic for consumers ever since Apple announced it as new a feature in the Apple Watch Series. In simple terms, an Electro-Cardiogram is a recording of the heart's electrical activity. An ECG recording can show how fast the heart is beating, the rhythm of the heart beats (steady or irregular), and the strength and timing of the electrical impulses as they move through the different parts of the heart. Now a feature in the Apple Watch and other wearables, the ECG is an excellent tool to analyze your heart activity that used to mainly be available only in clinics and hospitals.
Watches like the Series 7 have gained serious popularity due to such healthcare features, but is the ECG feature actually good enough to track your Heart Health? And what are the alternatives?
WHAT CAN THE APPLE WATCH ECG DO?
Like most premium smartwatches these days, the Apple Watch can take a spot-check of your ECG. This allows you to get a current reading of your heart activity as you push your finger against the appropriate button.
Unfortunately, since a reading can only be taken when your finger is pressed against the watch, it is impossible to continuously track your ECG through exercise, regular day-to-day activities, or even sleep.
LIMITATIONS OF THE APPLE WATCH ECG
The primary limitation of the Apple Watch ECG feature is that the inability to continuously measure your readings means the data you get is less accurate and less valuable. Especially when trying to spot any heart issues.
With a chest-based wearable like the Frontier X2, you can measure your ECG continuously throughout the day and during exercise. The Frontier X2 ECG monitor even has the ability to alert you if it catches anything abnormal through its continuous measuring. And that's not nearly all the benefits of such a wearable.
BENEFITS OF A CHEST-WORN ECG WEARABLE
1. MUCH MORE ACCURATE SIGNAL QUALITY WHICH CAN MEASURE SEVERAL HEART ISSUES
Measure other kinds of arrhythmias, like SVT, NSVT, VFib, PVCs, PACs, etc.
Measure ST-segment deviation, which is crucial to measure, in order to detect ischemia, or early signs of a heart attack.
Measure the QT-interval, which is a very important sign to determine susceptibility to different medications, and the probability of sudden Cardiac death.
2. CONTINUOUS DETECTION
Most heart abnormalities can't be detected during a single ECG spot check. This is why the apple watch only detects afib with an accuracy of under 20%, whereas a Frontier X2 can detect it at a much more impressive 99.6%
3. USE DURING EXERCISE
The Apple watch is pretty useless if you want to measure your ECG during exercise since it doesn't have continuous ECG tracking. This makes the overall use of the ECG feature on the Apple Watch is very limited, since most heart abnormalities happen during exercise (which is why doctors would make you do a treadmill test when checking your ECG). The Frontier X2 allows you to measure what happens to your heart during the most extreme exercises. What's more, the Frontier X2 also provides real-time tactile feedback based on your cardiac health parameters measured during exercise to alert you if you've pushed your heart too hard.
4. TRACKING A VAST NUMBER OF HEART PROBLEMS
Since the Frontier X2 is positioned close to the heart, it can sense tiny changes like the opening and closing of the heart valves. This opens up the door to measuring PEP, LVET, LVEF and various other haemodynamic parameters which a wrist watch would never be able to measure.
That's a lot that the apple watch can't do, which is why medical professionals recommend more accurate ECG devices – like the chest-worn Frontier X2.
Frequently Asked Questions :

I HAVE HEART PROBLEMS – IS THE APPLE WATCH ENOUGH?
No. As mentioned above it isn't enough to track your heart problems. Whether you're worried about any heart problems or about detecting when you're pushing your heart too far during exercise – the Apple Watch ECG feature is not enough.
The good news is that the Frontier X2 integrates with Apple health, so if you already own an Apple Watch you'll be able to track accurate ECG anytime, anywhere.
No to worry if you don't – the Frontier X2 has a web portal and an App as well to track all of your data across your activities. You can also have the data streamed directly to your doctor so they can see how your heart is doing – live.
I FREQUENTLY EXERCISE – WHICH IS THE BEST DEVICE TO MEASURE MY HEART HEALTH?
The only consumer device to measure live-ECG, the Frontier X2 is far superior to any wrist-based wearable technology. It has the unique ability to detect if you're pushing yourself too hard and putting a strain on your heart during exercise.
With regard to compatibility with other devices, The Frontier X2 easily links with the Apple Watch and Apple Health Kit, so your data stays with you on whatever device you want.
Other Heart Health Topics To Explore: